Digital Video Recorder 2E-Drive 750 Magnet
Dashboard camera with magnetic mount, 4K recording (with interpolation), OmniVision sensor, OLED touch screen, convenient control interface, as well as Wi-Fi module and GPS module, which is integrated into the holder. Applications for managing video and photo libraries are available on Google Play and AppStore. The device is equipped with lens with infrared filter, microphone, speaker and G sensor, which responds to shock and protects fragments of the accident video from overwriting.
Characteristics
Where to buy
| | |
| --- | --- |
| Type | Digital video recorder |
| Maximum resolution | 2160/24fps /2K Quad HD (1440P/30fps)/Super HD (1296P/30 fps)/Full HD (1080P/60fps,1080P/30fps)/HD (720P/120fps,720P/60fps) |
| Chipset | Novatek 96660 |
| Lens | Ø17.5 F1.8 (6G six-layer glass lens+infrared filter) |
| Sensor | OmniVision OV4B10 |
| Video format | H.264/MOV |
| Display | 3.0″ OLED 720x480 (Touch Screen) |
| View angle | 150° |
| Vertical tilt | Yes |
| Integrated GPS | Yes (on holder) |
| Wi-Fi module | Yes |
| Functions | G-сенсор, GPS Player, Parking Mode, Motion Detector, сyclic recording |
| Date stamp, speed, GPS coordinates | Yes |
| Stamp | Date, time, speed, geolocation |
| Battary | Li-pol, 3.7V/400 mAh |
| Memory card | Micro SD (up to 128 Gb) |
| Power | 5V/2A (magnetic connection, connection to the holder) |
| Speaker | 8 Ohm/1.5 W |
| Function keys, pcs | 2 |
| Reset button | Yes |
| Menu | English, German, Ukrainian, Russian |
| Operating temperature range | From -20°C to +60°C |
| Quick connection | Yes, without disconnecting the power cable |
| Color | Black |
| Body material | Plastic |
| Complectation | DVR, magnetic holder with GPS module, 12V charger with micro USB cable, spare 3M sticker for the holder, installation kit for power cable holders, protective film for glass, instruction with warranty card |
| Dimensions (WxHxD), mm | 80x56x30 |
| Weight, g | 85 |
| Manufactured | China |
| Warranty | 12 months |
High-Quality Video Under Any Conditions
High-quality recording is provided by OmniVision OV4B10 sensor and lens with six high-quality glass lenses and infrared filter. The OLED touch screen is readable even in bright conditions. High operation speed is provided by Novatek NTK96660 processor. 150° viewing angle allows to record everything that happens in front of the car without losing any details. The battery provides continuous operation even after car's lighter socket power supply failure.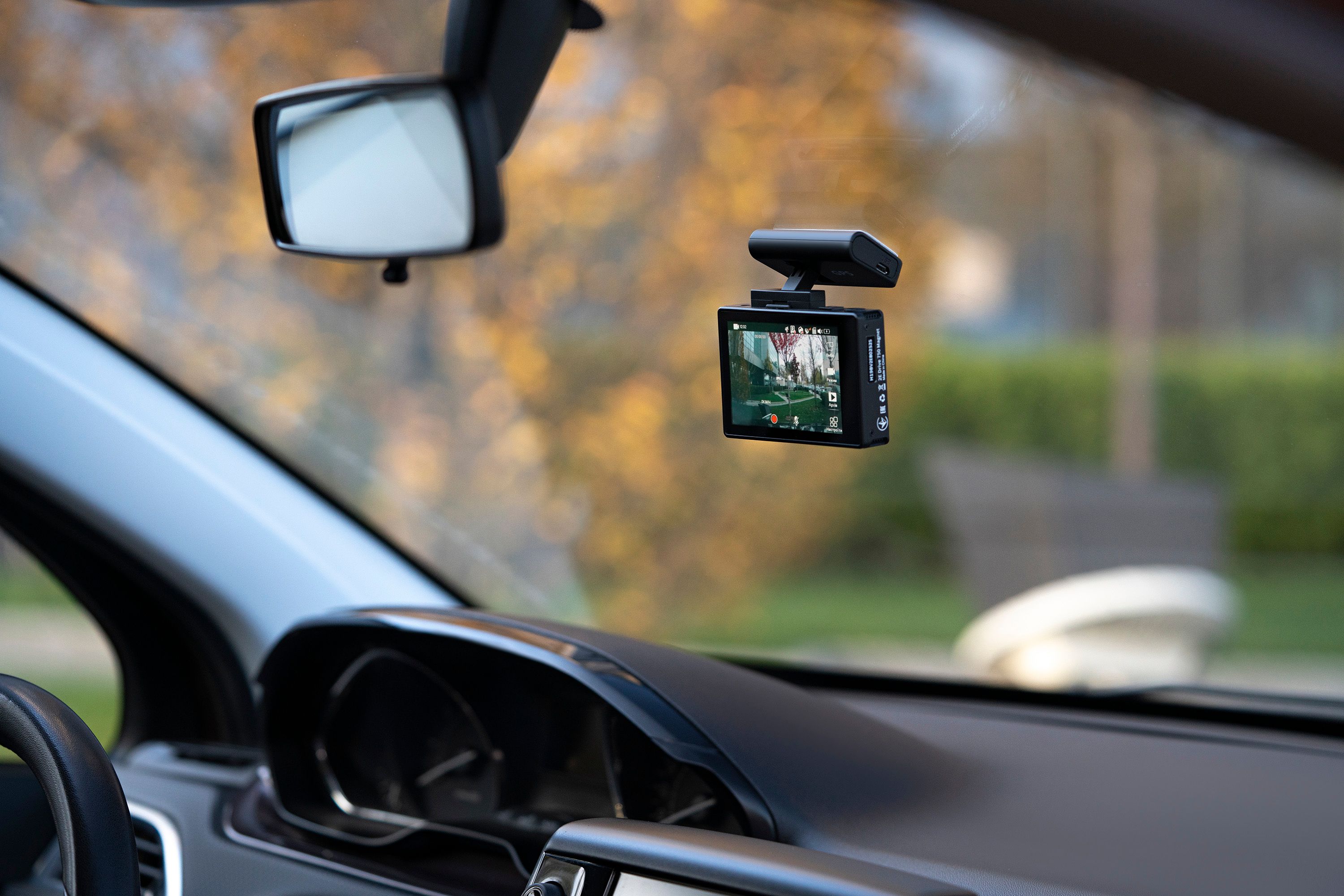 Incredible Convenience and Functionality
22E-Drive 750 Magnet has a number of functions that make using the DVR as efficient and convenient as possible. Loop recording ensures smooth operation of the DVR and constantly overwrites old files with new ones. GPS Player – record GPS coordinates to a video file that allows to display the route on the map. Parking Mode activates if the car does not move for a long time. The DVR stops recording to the memory card, but continues recording to the buffer memory. In the Parking Mode, special sensors are provided for recording the most insignificant events – Motion Detector and G-Sensor. Saving video from the buffer memory and recording to the memory card begins if there is even the slightest impact on the car. There is also Gesture Sensor function for device control using gestures.